Dye Sublimation
Dye Sublimation
What is Dye Sublimation (Dye Sub) Fabric Printing?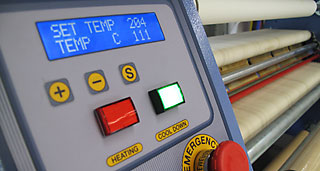 Dye sub is a process for dying fabric. Dye sub differs from our other techniques where we print directly onto the fabric with standard ink, such as UV curable which rests on the surface. Dye sub actually colours the fibres of the fabric.
How does it works.
Ink is first printed onto a paper stock called transfer paper. This initial step is printed in mirror image and often looks muted and dull. The next step is where the sublimation happens, the process of a solid turning into a gas. The paper is fed through a press which applies pressure and heat at around 200 C. While passing through the hot rollers, the pores of the fabric open up, allowing them to absorb the ink - which has now turned into a gas. After passing through the heat they begin to cool down, closing the pores and locking in the now solid rich and vibrant colour. The image is not on the surface but rather, in the fabric.
Strengths and Weaknesses of the printing process.

Dye sublimation in most cases is the superior option for imaging to textiles. It is super vibrant, very durable, resists chemicals, is washable, won't scratch off and will not crease or crack. It can be used, washed, folded and stored many times over. Probably the weakest point is the UV resistance. Outdoors and exposed to direct sunlight, you can expect anywhere from 6 months to 1 years vibrant life due to the image fading.
Typical Applications:
Banners, flags, furnishings, display materials, wall coverings, and architectural fabrications.
Soft Signage.
You can achieve a different feel by using fabrics instead of traditional media such a paper and PVC banner. There is a theory that textiles have an emotional appeal because people connect with them due to the role they play daily in our lives. Soft signage is also practical. Textiles are light weight, easy to transport and less susceptible to getting damaged compared to pvc and papers. Sublimated textiles are more durable and solvent resistant. If your print gets dirty you can clean it in a conventional washing machine. Sublimated prints onto textiles are very rich and vibrant.
Flags.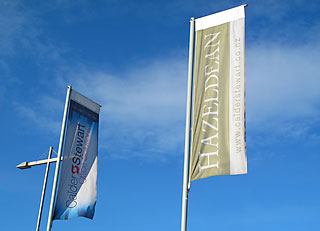 Dye sub is a great solution for all types of flags. We can produce teardrop flags, street flags and pretty much any shape and size flag you require. Use these flags indoors or outdoors. The sublimation process ensures you will get extremely vibrant colour and you can easily clean your flag by putting it through a wash cycle in your washing machine should it get dirty. We match your requirement to the correct fabric weight and finishing technique so you get a quality product.