UpLifting Artworks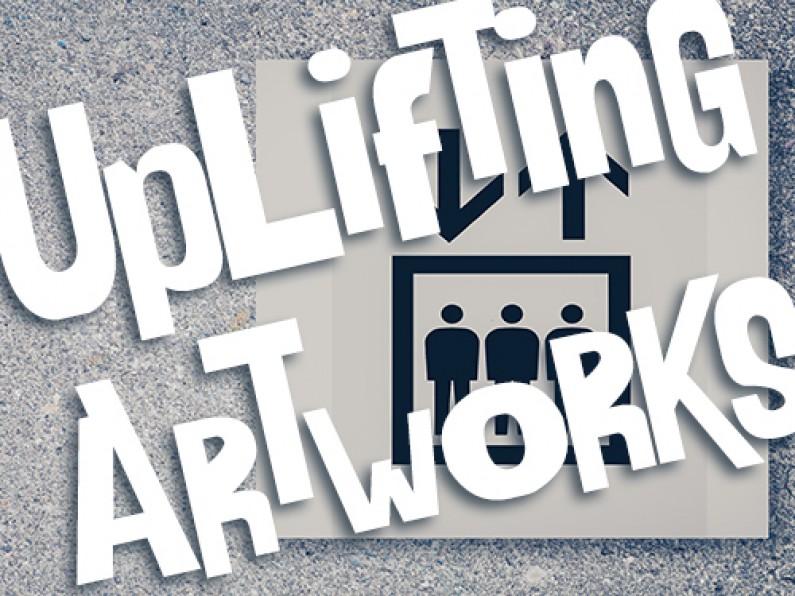 How many times have you found yourself standing in a lift staring at boring doors in front of you while heading to your level? Well, things have changed; There is every reason to now turn and face that wall, roof or door closest to you. It would be fair to feel sorry for the person in the middle, and don't forget to hop off when the doors open.
Client: Christchurch Art Gallery Te Puna o Waiwhetu
Event: Exhibits in the Gallery lifts
We worked with The Christchurch Art Gallery to deliver three quite different looks in their lifts. Three different lifts, three different artworks. Descriptions of exhibits kindly supplied by Christchurch Art Gallery Te Puna o Waiwhetu.
What we did:
Lift one: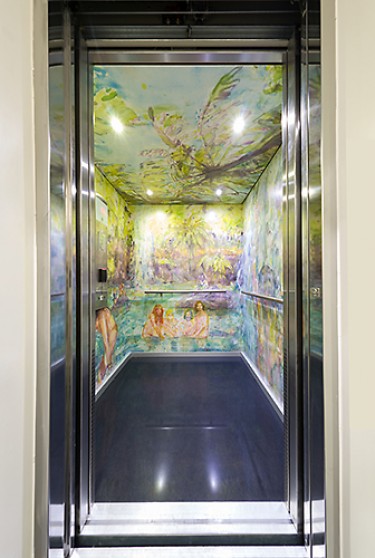 Séraphine Pick's lush watercolour offers a utopian vision in the car park elevator. As you ride between floors in the elevator from the Gallery car park, you'll also be transported to an inner world of the artist's imagination. Pick's painting depicts groups of bathers in a pool surrounded by bush, with a canopy of kaponga, or silver tree fern, overhead: it's concerned with the failure of utopian dreams. Commissioned to fit the proportions of the elevator, the original watercolour has been made into a large-scale digital print which immerses you in the detail of the brushwork – enabling you to revel in its blots and blooms, its drips and transparent washes.
Image: Séraphine Pick Untitled (Bathers) (detail) 2015. Digital print to self-adhesive polyester film, from a watercolour. Courtesy of the artist and Hamish McKay Gallery, commissioned by Christchurch Art Gallery Te Puna o Waiwhetu
Lift two: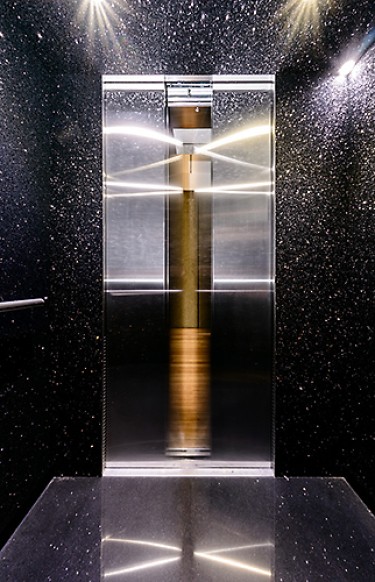 Reuben Paterson's sparkling elevator installation offers an unexpected space for contemplation and connection. Paterson has covered the walls and ceiling with a dense, velvety black, glitter sprinkled cloth: the effect is like travelling through a dark sky powdered with stars. In Māori cosmology, the separation of the sky and earth brings forth Te Ao Mārama, the world of light, and signals the coming of knowledge. Dancing with a thousand points of reflected light, Paterson's installation alludes to traditional navigation as well as to the Māori name of Christchurch Art Gallery's building, Te Puna o Waiwhetu – the waters in which stars are reflected.
Image: Reuben Paterson The End 2016. Cotton fabric with metallic particles. Courtesy of the artist and Milford Galleries, commissioned by Christchurch Art Gallery Te Puna o Waiwhetu
Lift three: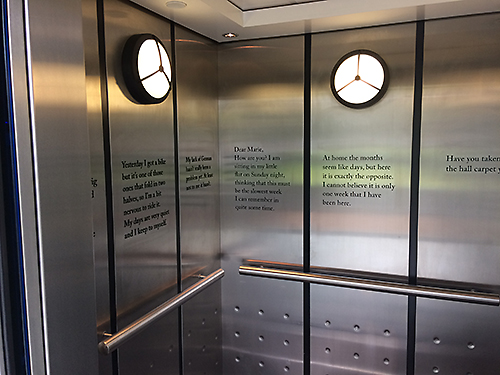 Marie Shannon's immersive installation examines love, loss, and the longing for emotional connection across distance. It's a melancholy and contemplative text and sound work based on a series of letters sent by New Zealand artist Julian Dashper to his partner Marie Shannon while he was artist in residence in Aachen, Germany, in 1995.
Image: Marie Shannon The Aachen Faxes, Christchurch remix 2015. Flocked cast vinyl and sound. Courtesy of the artist
What they said:
When Christchurch Art Gallery reopening at the end of 2015 after five years of earthquake repairs, we commission three artists to create works for three lifts in the Gallery. Part of the Gallery's Outer Spaces programme of art which inhabits unusual and surprising spaces outside the normal confines of the building, works like these always raise interesting and novel challenges. Artists were commissioned to create works for an unusual space and each responded in a unique way. Installations such as these are always a complex collaboration between artist, gallery staff and production companies and Adgraphix, as always, rose to the challenge offering valuable expertise and unique ways for each of these works to be realised. Peter Bray, Graphic Designer, Christchurch Art Gallery Te Puna o Waiwhetu
Subscribe